Written by: Pathramon Niamsiang [Thub] & Soubsakul Chittangsomboon [Villy], BBA#17
The annual Internal Case Competition by Chulalongkorn Case Club and BBA International Program was held during October 9th to 11th 2015. It took place at the Mandarin Hotel, Samyan where participants stayed over for two nights.

There were 18 teams with 4 team members each participating in the event. They were given 24 hours to think of an impactful, imaginative, and attainable answer to a real business case and after that made to present their proposals to a board of esteemed judges from numerous acclaimed organizations along with experienced Case Club alumni. However, after a lot of hard work and determination, only four teams made it to the final round. The finalists were judged again with their last presentation by the judges to determine who the winner was.

Case Club would like to extend its thanks to a number of parties, first of which is our sponsor. Internal Case Competition could not have happened without the generous support of our sponsor. For the very first time, this year we were honored to be sponsored by Lazada, Asia's leading e-commerce company. Cash coupons were awarded to the finalists as well as a one week's e-commerce training at Lazada for the winning team.

Thanks also to the BBA International program Chulalongkorn University for making this happen, Dr. Buraj Patrakosol for advising the organizing committee from the very beginning, the working professionals and Case Club alumni who took their time off on a Sunday to be part of the judging panel for this event, all participants for eagerly joining this event, and lastly all the staff members, all of whom worked very hard and were irreplaceable.
Case Club would like to extend its congratulations to the finalists: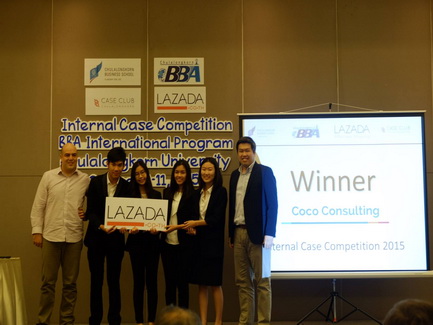 1st Place: COCO Consulting
Chidchanog Chidchanognarth
Chanakarn Kachonseree
Pimchanok Witayaweerasak
Sohyun Choi
Prize awarded by Mr. Alessandro Piscini [CEO of Lazada Thailand] and Mr. Sungwon Yoon [Principal at Bain & Company]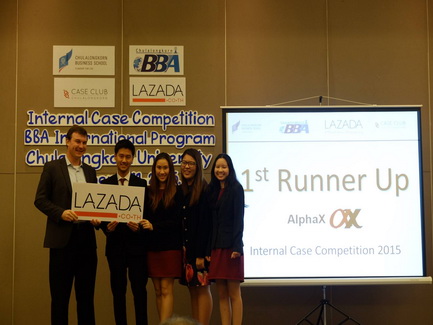 1st Runner up: AlphaX
Chakrapoj Chitwannapa
Naratthaphasorn Lewsantithanakul
Wanwares Boonkong
Poonnapat Lalitkul
Prize awarded by Mr. Oliver Gotschall [Director of Strategy at Big C Supercenter]
2nd Runner up: The Megaminds
Sivanach Booncharoensombat
Vachiraya Chumchoowat
Watthana Philuek
Kachapol Trakulsap
Prize awarded by Mr. Raja Thuraisingham [Former managing partner of Accenture SEA]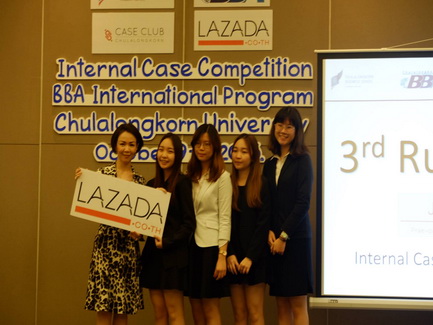 3rd Runner up: JWN Series
Yada Trikasemmart
Tassanee Chinchalongporn
Prannarai Ploythanachai
Praewpan Ploythanachai
Prize awarded by Ms. Yayus Mak [Managing partner of Brillantive]