Written by: Ajarn Yayus Mak
On October 29th, two students of Ajarn Yayus Mak from Marketing Strategy 2012, Chase Boedigheimer (USA) and Nina Kremer (Germany), had the opportunity to attend the James Bond 007 Skyfall Thailand Gala Premier courtesy of Khun Subha-Orn Rathanamongkolmas from Sony Pictures Releasing Thailand.
Skyfall, the 23rd and latest James Bond movie, opened with its Thailand gala premier at SF World Cinema, Bangkok, presided by His Excellency Mr. Mark Kent, British Ambassador to Thailand. The movie was officially released in Thailand on November 1st, 2012 and coincided with the 50th anniversary of the James Bond series.
Apart from being the first selected group of people in Thailand to see Skyfall, the students got to attend the glitzy 007 co-marketing events with Heineken and Coca Cola, met with movie industry executives, and witnessed firsthand the integrated marketing activities that went into the release of a James Bond movie.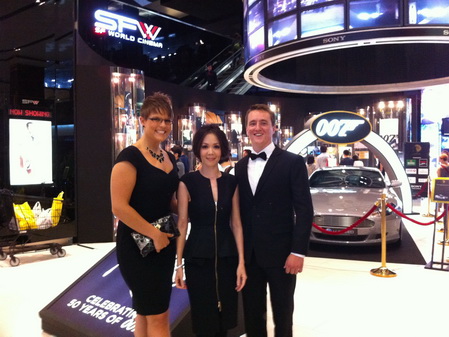 Nina Kremer and Chase Boedigheimer, two students of Marketing Strategy 2012 with Aj. Yayus Mak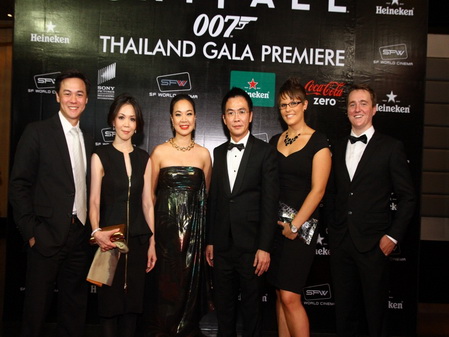 Photo caption from left to right:
Guest 1: Mr. Patara Yongvanich, Enterprise and Public Sector Director of Microsoft Thailand
Guest 2: Ajarn Yayus Mak, Managing Partner of Brillantive LLC.
Guest 3: Khun Subha-Orn Rathanamongkolmas, Director of Sales and Distribution, Sony Pictures Releasing Thailand
Guest 4: Mr. Suwat Thongrompo, President, SF Cinema City
Guest 5: Miss Nina Kremer, BBA International Program exchange student from WHU-Otto Beisheim School of Management
Guest 6: Mr. Chase Boedigheimer, BBA International Program exchange student from Oregon State University