Written by: Ravisara Wachakorn, BBA Student ID58

Dr. Siri-on Setamanit led her Production Operations Management students to visit the Siam Winery factory in Samutsakorn on November 9, 2017.

Siam Winery is Asia's leading manufacturer of wine which has the vision to establish wine-drinking culture in Thailand. Its bestselling product in Thailand is the Spy Wine Cooler. The students had the opportunity to understand the origins of Siam Winery Company Limited and the wine industry in Thailand and overseas.

From growing Shiraz grapes in the vineyard to bottling the wine, the students were explained in detail of the processes involved. The highlight of the field trip was when the students had the chance to see Siam Winery's wine production line. The factory was filled with huge silos, bottling machines running at speed we could not see each individual bottle clearly and packaging machines wrapping the bottles with labels. The line comprised of state-of-the art technology that allowed millions of bottle to be produced daily. Students were able to see the theories taught in class come to life. Walking in the line, they were discussing how some of the lessons learnt was applied in this production line such as layout decision and types of production methods employed. The students were explained many important careful methods which led to the success of achieving the taste, smell, and alcohol level of each kind of wine such as controlling the temperature of the Oak room where the wine is aged.

To end the field trip, a wine tasting session was held and the students were very excited to taste the wine, learn about etiquette relating to wine drinking and also the types of wine produced by renowned countries.

Production Operations Management students surely had a fruitful experience visiting the Siam Winery factory and are very thankful for this opportunity.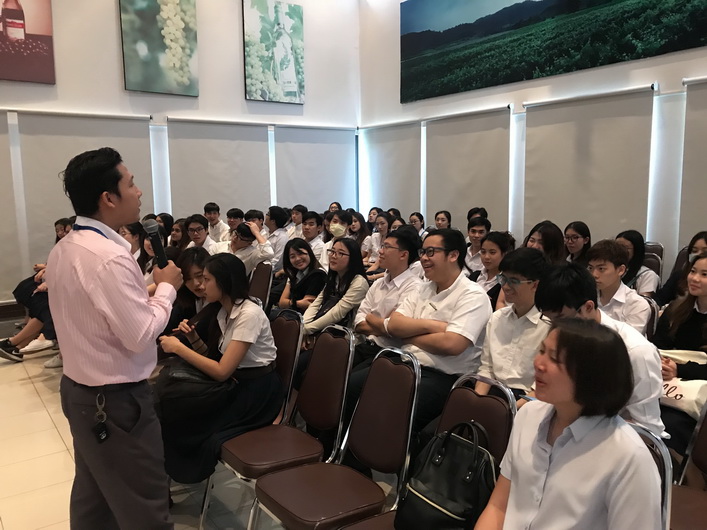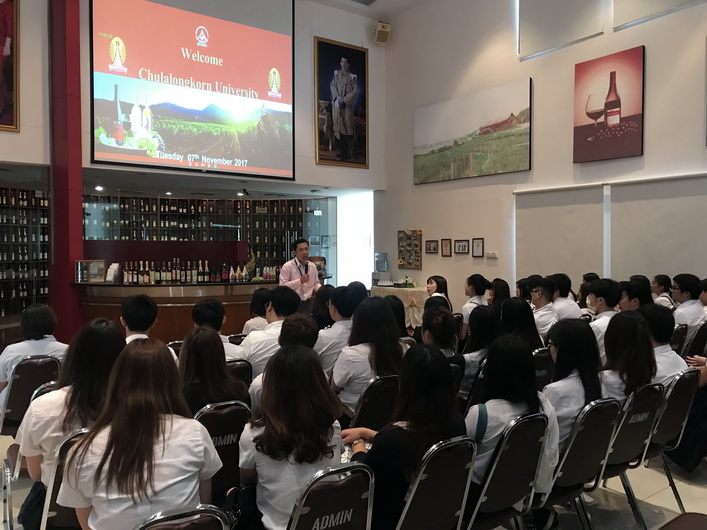 Written by: Patipol Liewpairat, BBA Student ID58
The class of Production Operations Management class had a great opportunity to visit Siam Winery Trading Plus Company Limited at Samut Sakhon, on 7 November. This company visit was very eye-opening and very important experiences for us since we can see the production processes and how the company management the factory which related to the class lesson. It is very interesting to learn how wine has been made from planting till packing and selling the products. The class were able to see and learn how the company choose the location, how they layout the facilities, and how managed inventories. It was good to know how production processes had been done. The outside classroom learning experience was enjoyable and informative.