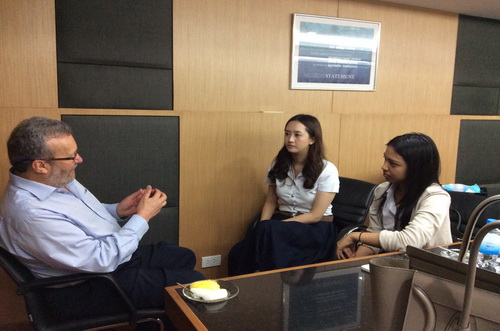 Written by: Itthaphorn Srisukvattananan, BBA#17
I had learnt so much within the few hours I had spent talking with Ron. He told me about his job and how he was able to travel the world, visit universities and exchange accounting knowledge with different professors. He explained to me that I had more options to explore than what I thought I had. For instance, I did not know that I could obtain the CPA license in Australia and a few states in the US. I initially thought that I could only pursue my accounting profession in Thailand due to the citizenship requirement. He inspired me to do what I like, whether it be accounting or not.
-------------------------------------------------
Written by: Chompunuch Chachchaval, BBA#17
Certainly​, it was a great opportunity to welcome Mr Ro​n ​Woolley, Accreditation Consultant, CPA Australia to our campus on October 17, 2015.
During the welcome lunch, my friend and I had a chance to have a conversation with Mr. Woolley in which he shared his valuable experience as an Accreditation Consultant on topics of career in Accounting profession and CPA knowledge. We were amazed to learn that we have opportunities to take CPA of other countries and that some CPAs such as CPA Australia have mutual recognition agreements with many other countries including Hong Kong, Singapore, and Canada which means the certificate provides us an opportunity to work in a broader region. Moreover, for CPA Australia and CPA Thailand, some subjects are transferable; thus, only additional subjects need to be taken to obtain other CPA for CPA Australia. Thus, the mobility of accounting career has been enhanced together with the integration of accounting standards. We also learnt from him about career in accounting profession in which he advised us that experience in auditing firm and CPA qualification will provide a great start for any future career one wants to proceed further. He mentioned that talents with accounting knowledge will still be in demand despite the advancement of information processing technology and that in reality, accounting career is more dynamic and challenging than what students usually experience in class. Overall, we learnt insightful information from this discussion and we believe this would be beneficial for us to make decisions about our career paths in the near future.