ADMISSION REQUIREMENTS 2022 "BBA - NextGen Admission"

Please click here to read the full Admission Announcement

STEP 1 : Eligibility Criteria :
1.

Applicants must be at least 17 years old and have completed/be completing M6 or its equivalent levels according to the condition set by Chulalongkorn University.
2. Applicants
must
achieve the minimum score on
one
of the following English proficiency tests:
English Proficiency Tests
Minimum Score

1. CU-TEP and Speaking (taken the same date)
(Chulalongkorn University Test of English Proficiency)

101



2. TOEFL (Internet-based)

79

3. IELTS (Academic)

6.5

4. Duolingo English Test

105

STEP 2 : Eligible applicants will be evaluated based the Video Resume and Portfolio and applicants must submit one of the following scores which pass the minimum score: :
Academic Aptitude Tests
Minimum Score
1. CU-AAT (Chulalongkorn University Academic Aptitude Test)

1230

2. SAT (Math & Evidence-Based Reading & Writing)

1300

3. ACT Composite score
The ACT composite score is calculated as the average of Mathematics, English, Reading and Science

*Note that the detail of the ACT score on this page is the current one. The new official announcement
will be posted later to correct this part of information

28







REMARK : Parts in each test must be taken on the same date and the scores in step 1 and step 2 must be within 2 years before the date of application deadline. Scores will not be used for the evaluation
Video Resume and Portfolio
Applicants must submit a video resume and a portfolio showing the academic achievement at national or international level on mathematics, business, or communication.
STEP 3 : Interview

Admission Process
(Early Admission)
"BBA-NextGen Admission"
(10 qualified applicants)
CU-AAT and CU-TEP & Speaking tests hosted by Chulalongkorn University Academic
Testing Center

www.atc.chula.ac.th




Register in the TCAS system

December 9, 2021

Online Application via http://admission-bba.acc.chula.ac.th/
and Admission applicants can only submit the admission packet (including the application fee
payment evidence) via EMS at : BBA International Program, Chulalongkorn Business School,
Chulalongkorn University, Phayathai Road, Pathumwan, Bangkok, 10330 (Early Admission Round)
(with application fee 1,500 baht no-refund will be made after the application has been submitted)

(The application will be rejected if the required scores are not reported in our online system
on the application date)

December 9 - 24, 2021

Interview shortlist announcement

January 12, 2022

Interview period

January 14 - 17, 2022

Announcement for admitted result

February 4, 2022

February 7 - 8, 2022

Announcement of the list of confirmed applicants in the 1st round of TCAS65

February 11, 2022

Enrollment confirmation with payment

February 14, 2022

Final selection announcement

February 18, 2022

Information

Contact

- CU-AAT (Chulalongkorn University Academic Test) - CU-TEP & Speaking

(Test of English Proficiency of Chulalongkorn University)

- ACT

(American College Testing)

www.act.org

- IELTS
(The code for reporting IELTS is Chulalongkorn BBA 138499)


www.ielts.org




British Council : Tel. 02 657 5678


Bangkok Silom Office : Tel. 060 003 5826
- Duolingo English Test

https://englishtest.duolingo.com/

- TOEFL (Test of English as a Foreign Language)
- SAT (Scholastic Aptitude Test)
(The code for reporting TOEFL and SAT is Chulalongkorn BBA 4559)

www.toefl.org




www.collegeboard.org



- High School Certificate Equivalency System
(Chulalongkorn University Academic Testing Center Chamchuri 8, 3rd Floor)

https://hsces.atc.chula.ac.th

Tel. 02-218-3717


Note : Please make sure your scores are reported in our online system before creating your application.
The Collegeboard and ETS deliver SAT and TOEFL scores respectively on a weekly basis (generally on Fridays) or 3 business days for rush score in our online system.

The delivery of IELTS score reports take 3 business days.
Orientation & Business Foundation Studies

Remark: Orientation & Foundation Business students are COMPULSORY, Failure to attend may delay your study program.
Request for Equivalence Certificate / Provisional Equivalence Certificate
Request for actual Equivalence Certificate - For applicants with a foreign High School Diploma
Request for Provisional Equivalence Certificate - For applicants currently attending foreign high school and appropriately qualified for equivalence application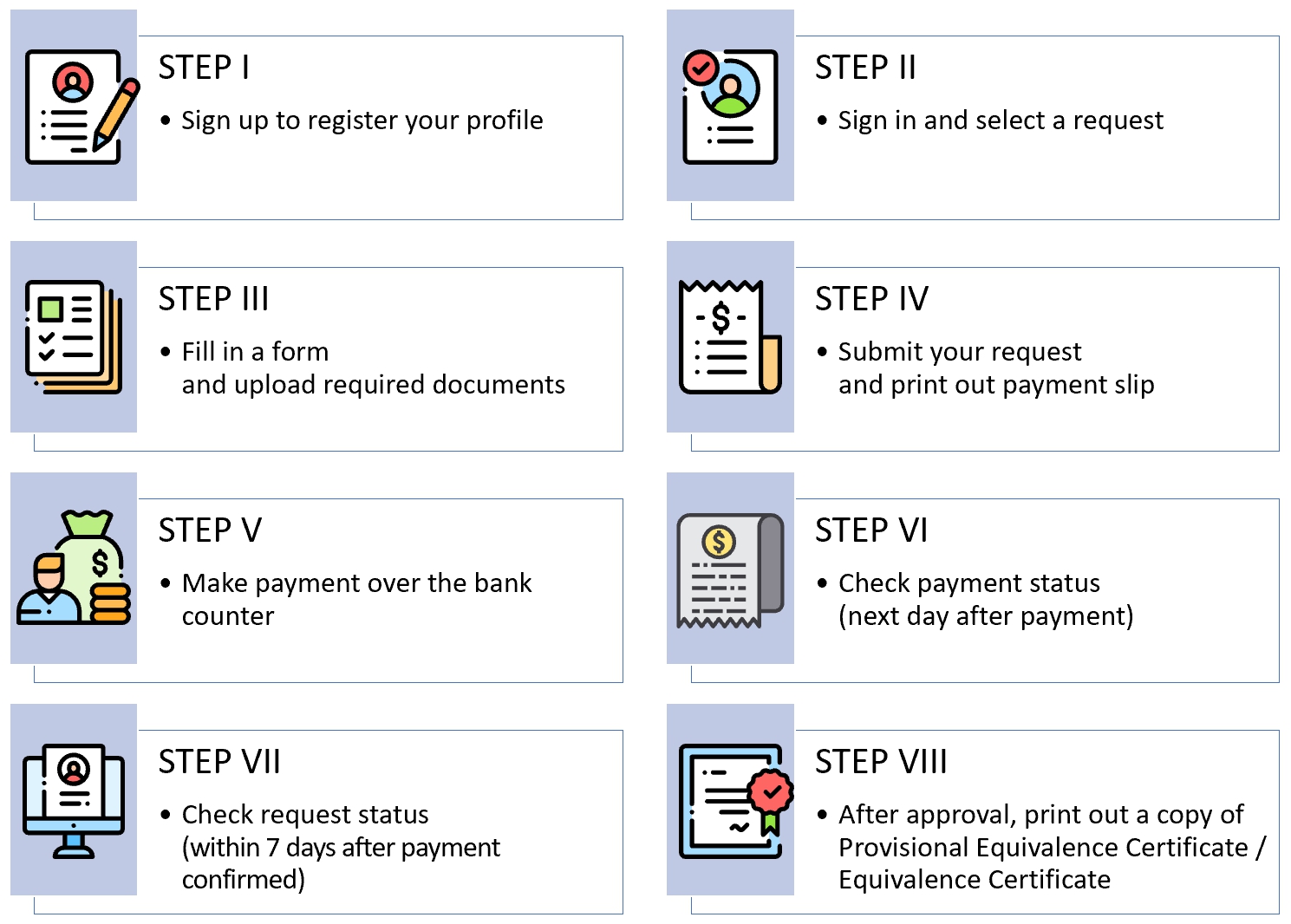 Application fees
| | |
| --- | --- |
| Request for actual Equivalence Certificate | 500 baht/program |
| Request for Provisional Equivalence Certificate | 200 baht/program |
| Equivalence Certificate English translation | 100 baht/copy |
| GPA Equivalency | 200 baht/program |